BOYCE DESIGN & CONTRACTING PROUDLY SERVES ATLANTA
ATLANTA EXTERIORS
Since 2003, Boyce Design & Contracting has been designing and building award-winning, custom outdoor living spaces and swimming pools and leaving lasting impressions on Atlanta homeowners. Consistently ranked as one of Atlanta's top five residential contractors by Atlanta Business Chronicle, each of our custom, outdoor living spaces and swimming pool projects are expertly designed from the ground up, ensuring that the scale, style, and finish of your project is exactly what you want and integrates seamlessly into your home's architecture style and landscape. Our Design/Build team has received the industry's highest awards from The National Association of the Remodeling Industry for expertise in functionality, aesthetics, craftsmanship, innovation, problem solving and exceptional work ethic from concept to completion.
Boyce Design & Contracting uses a collaborative Design/Build process that provides our Atlanta clients a streamlined process for their residential construction projects. With a foundation based on trust and communication we strive to provide a positive customer experience and a finished product that exceeds our client's expectations. We take great pride in our projects and our goal is to create spaces that our Atlanta clients will enjoy for years to come and hope that we form lasting relationships with those that we work with.
"Extremely pleased with Boyce Design and Contracting. They transformed our narrow bowling alley deck into a contemporary oasis. We are so happy with the result! From excellent design and implementation, attention to detail and customer service, we could not have found a better team. Not to mention really good people."
Jennifer D., Atlanta, GA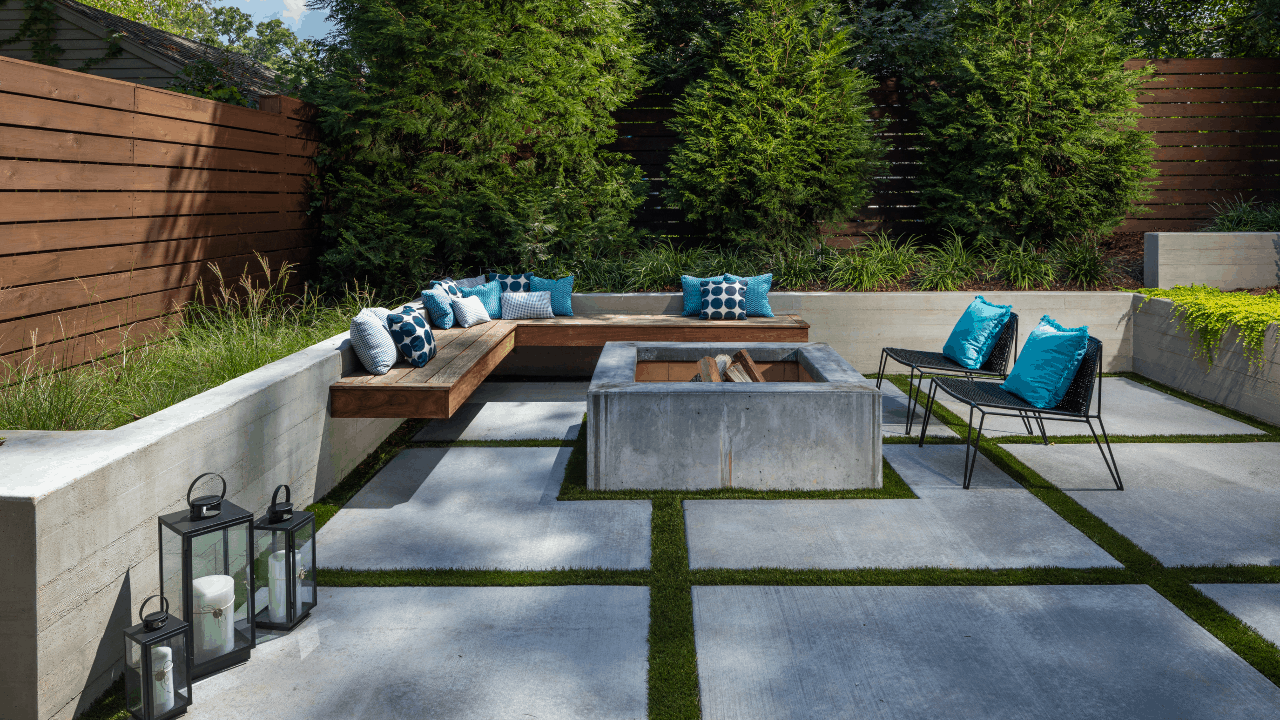 ATLANTA POOL BUILDERS
Our experienced Atlanta design team specializes in designing all styles of custom pools and spas including classic, modern, freeform, natural and plunge pools with unique features such as negative and infinity edges, waterfalls, tanning ledges, fire features and fountains.
One of the most requested features from our Atlanta clients is the sleek and ample tanning ledge which offers a luxurious place to lounge and relax while still enjoying the refreshing retreat of your custom swimming pool. Designed to be as long or as wide as you prefer, a tanning ledge extends into the pool without being fully submersive and is the ideal relaxation space for your family. It's the perfect spot for splashing with younger children or cooling off with your favorite four-legged friend. Add the soothing sounds and visually pleasing waterfalls and bubbling fountains to your custom swimming pool and bring a level of calm and elegance to your outdoor living space.
Your custom inground pool should be an extension of your home with a seamless transition from house to pool incorporating your distinct style, taste, and personality. Boyce Design & Contracting's professionals have the ability to custom-build any swimming pool to match any surrounding architecture or landscape regardless of the type you choose.
Boyce Design & Contracting knows that building a custom swimming pool with Atlanta's tight lot coverage restrictions and demanding city building ordinances can be a bit challenging and take some creative planning. As one of Atlanta's top pool builders, each of our swimming pool projects are expertly designed from the ground up, ensuring that the scale, style, functionality, and finish of your project is exactly what you want.
Plunge pools and spools are terms often used when describing a smaller size swimming pool and they are becoming increasingly popular throughout the Atlanta area and Southeast. They provide a relaxing retreat to your outdoor living space and are the ideal solution when space is limited.
While the swimming pool will be the focus of your backyard retreat, our dedicated team of professionals will help you develop an entire, custom, outdoor living area surrounding your custom swimming pool that will integrate together seamlessly. As several different construction teams work together to construct your custom swimming pool project, you will have a dedicated contact person working with you through each step of the process. That person will stay in regular touch with you, asking for your feedback and keeping you informed of your project's status. You will have the opportunity to make sure every detail of your swimming pool meets your exact specifications, including during the sales, design, construction, and ongoing maintenance processes. At Boyce Design & Contracting we believe in a balance of functionality and aesthetics and take the time to understand your lifestyle, needs, wants, etc. to make sure that our swimming pool design encompasses all of the necessary elements to meet your requirements and exceed your expectations.
Indoor-outdoor living is one of Atlanta's hottest trends in the remodeling industry and a great way to expand your living space while increasing your home's value. With Atlanta's mild temperatures, an outdoor living space allows Atlanta homeowners to reap the benefits of entertaining outdoors year-round and the design options are limitless. Consider incorporating panoramic doors or sliding doors and forge an immediate connection between the interior and exterior spaces creating a true extension of your home with a plethora of options for entertaining and relaxing. Fire features, outdoor fireplaces and firepits can be a dramatic focal point for your outdoor living space and lend an added dimension of warmth and comfort while serving as a natural gathering place.
When creating your custom outdoor living space, the team at Boyce Design & Contracting focuses on incorporating a variety of custom-built features into your outdoor living project, including outdoor kitchens and bars, outdoor fire features, cabanas, sunrooms, pergolas and patios, decks, porches, water features and landscaping. Whether your style is modern, traditional, or transitional, our Design/Build team has the talent and experience to create the perfect backyard retreat by adding a level of character and style that distinctly suits your personality. Our goal is to reflect your vision and create a finished outdoor living project that exceeds your highest expectations.
Boyce Design & Contracting is one of the few Atlanta residential exterior Design/Build companies that helps you conceptualize, design, build, and maintain your outdoor living space. Our tight teamwork and close communication with you through the entire process helps us create a product difficult for other contracting companies to match. Each team member's skills closely compliments the skills of the others, which has led to our firm winning NARI's National Contractor of the Year Award for the past several years.
"I truly enjoyed working with Boyce on the completion of my pool and surrounding landscaping. They were more proactive and transparent then other contractors I have used, which was very important to me. I was never left guessing with respect to status, next steps or costs. I also thought they demonstrated a great balance between listening and advising. In short, I would highly recommend using them on a project."
Rich M., Brookhaven, GA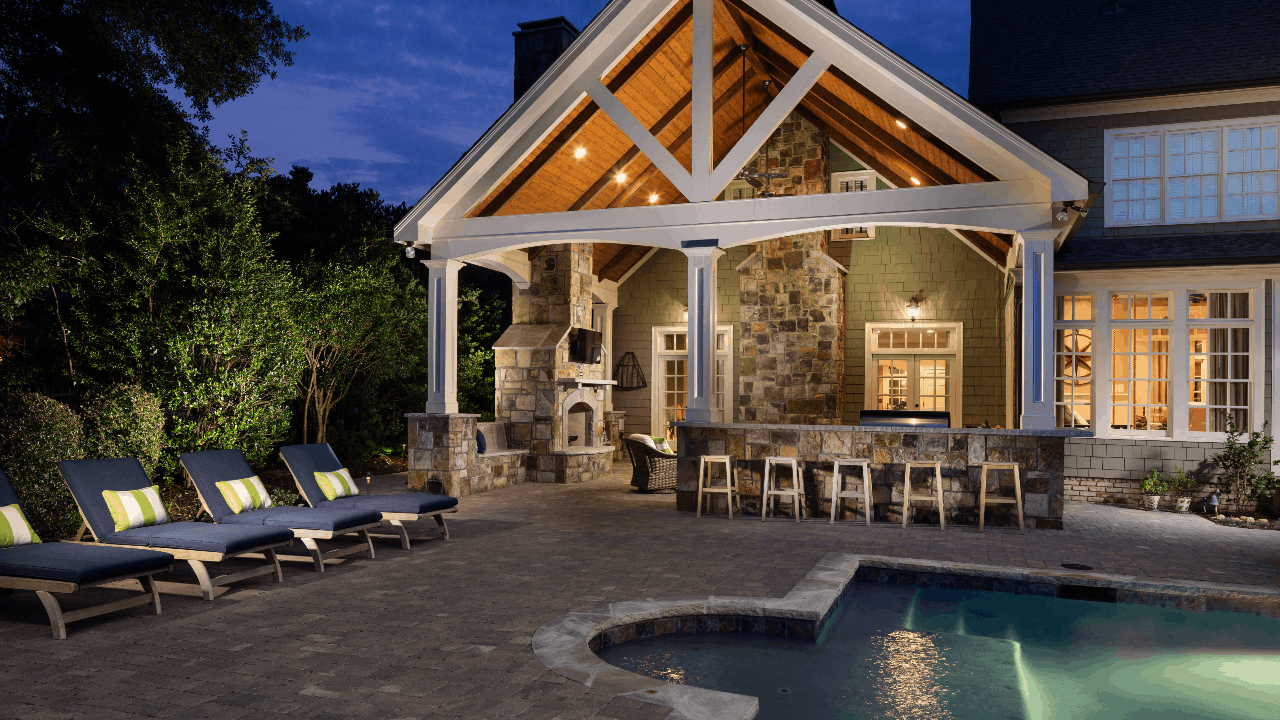 ATLANTA INTERIORS
Recognized as one of Atlanta's top 5 residential remodeling contractors since 2013, Boyce Design & Contracting has received national recognition for creating high-end, luxury, kitchen and bath remodels, basements, and home additions. Atlanta's neighborhoods each have their own unique personality and diverse architectural style and our award-winning Design/Build team takes great pleasure in creating the perfect environment for you through vision and thoughtful planning. Whether it's remodeling a master bedroom and bathroom, creating the kitchen of your dreams, adding square footage by finishing off a basement or attic space, adding additional rooms, a second story to your home, or finishing a garage, we believe in a balance of functionality and aesthetics and take the time to understand your lifestyle, needs, wants, etc. to make sure that our design encompasses all of the necessary elements to meet your requirements and exceed your expectations.
As a Design/Build firm, we offer our clients a turnkey solution for their residential remodeling projects and have successfully honed our process into a few simple steps to ensure a stress-free project. At Boyce Design & Contracting we believe in building a partnership and positive working relationship with our clients that is based on integrity, trust, and communication. We take great pride in our level of craftsmanship, exacting attention to detail, passion for quality and timeless designs. Our team is composed of all of the necessary professionals required to take your project from concept through completion and our in-house designers, project managers, and craftsman collaborate throughout the entire process to ensure the highest level of quality throughout every step of your project.
"Boyce is a fantastic company run by highly professional people who stand by their work and their fee estimates. We have owned several homes and have undertaken a number of large renovations. We know the difference between high and low quality workmanship and between great and not-so-great customer service. We have high standards for both. Boyce exceeded our expectations at every tum – great design capabilities, great work, and great customer service."
Emily G., Atlanta, GA
Project: Tranquil Master Bath Retreat + Family Room/Kitchen Refresh

ATLANTA KITCHEN REMODELING
A custom kitchen renovation is considered the number one home remodeling project to add the highest value to your home. Not only is it a great investment, but according to a recent survey, Atlanta homebuyers said an updated kitchen is one of the most important factors they look for in a home. At Boyce Design & Contracting we have been helping Atlanta homeowners create luxury kitchens that are as functional as they are inviting.
The kitchen truly is the heart of the home, and probably the most popular room in your house. We understand families spend a significant amount of their time at home in the kitchen cooking, eating, socializing, and creating memories so it makes sense to improve the look and feel of the space. A custom kitchen remodel gives homeowners the opportunity to have complete control of the layout, flow, and function of their new space. Create a state-of-the-art chef's kitchen by adding commercial grade appliances, custom vent hoods and climate-controlled heating and cooling drawers. Add panoramic sliding doors for a dramatic indoor/outdoor connection and fill your new dream kitchen with an abundance of natural light. There are so many options to consider when remodeling a kitchen that it can seem daunting but the skilled design team and craftsmen at Boyce Design & Contracting make the process as easy as possible and will help guide you through every step of the way.
Our in-house designers work with your specific tastes and desires in mind, taking the time to match the organization of spaces, material finishes, and type of aesthetic to your personal taste. At Boyce Design & Contracting we offer our clients a unique, turnkey solution by handling all aspects of the kitchen remodel including design, estimating, construction, finishes, and product selections. By keeping all of our services in- house, our clients deal with only one firm from start to finish and have a defined project timeline and completion date.
ATLANTA BATHROOM REMODELING
When it comes to home improvements, one of the best remodeling investments you can make is renovating a bathroom. Updating your bathroom will not only transform it into a relaxing retreat but will also add real value to your home. Since 2000, Boyce Design and Contracting has been designing modern, transitional, and traditional style luxurious master bathrooms for Atlanta homeowners. A custom bathroom renovation can improve the quality, style and layout of your current space and provide you with a calming place to unwind after a long day.
Bathrooms can be challenging spaces, and at Boyce Design & Contracting we specialize in designs that improve the quality and function of your space, creating a comfortable and appealing atmosphere. There are numerous things to consider in a bathroom remodel and existing features, utilities, and space limitations can create expensive challenges. The design team at Boyce Design and Contracting works hand in hand with our clients to develop creative solutions that maximize the space, value, and look of each custom bathroom remodeling project.
Today's master bathroom remodel is all about creating a spa-like sanctuary that offers a place of peace and solitude and at Boyce Design & Contracting, our teams work together to make your dream bathroom a reality. Many of our professionals have been working together for years, and the friendship and communication that has developed helps us to deliver a level of quality you will have a hard time finding anywhere else in the Atlanta area.
Very often, our Atlanta clients approach us with their own ideal vision for their custom bathroom remodel, but after they go through the process of meeting with an assigned designer and browsing our portfolio, they find something that exceeds what they initially expected. Because you work with a designer uniquely suited to your style who takes the time to get to know your personal tastes very well, you end up with a final result that far exceeds your original intentions.
Let's Start Building Your Dream Project Today