Award Winning Custom Pool Builders
For over 18 years Boyce Design & Contracting has been designing and building award-winning, luxury, swimming pools and spas for homeowners. Whether your style is modern, traditional or transitional, we provide the highest quality standards in swimming pool design and construction services. Our experienced Design/Build team specializes in all styles of custom pools and spas including classic, modern, freeform, and natural pools with a mosaic of signature features such as negative edges, infinity edges, waterfalls, tanning ledges, fire features and fountains.
At Boyce we believe in a balance of functionality and aesthetics and take the time to understand your lifestyle, needs, wants, etc to make sure that our design encompasses all the necessary elements to meet your requirements and exceed your expectations.
Custom Features To Consider
Private Outdoor Sanctuary
Private Outdoor Sanctuary
Luxury Pool With Contemporary Cabana
Luxury Pool With Contemporary Cabana
Custom Pool & Outdoor Living Retreat
Custom Pool & Outdoor Living Retreat
While the swimming pool will be the focus of your backyard retreat, our dedicated team of professionals will help you develop an entire, custom, outdoor living area surrounding your pool that will integrate together seamlessly. As several different construction teams work together to construct your pool project, you will have a dedicated contact person working with you through each step of the process. That person will stay in regular touch with you, asking for your feedback and keeping you informed of your project's status. You will have the opportunity to make sure every detail of your swimming pool meets your exact specifications, including during the sales, design, construction, and ongoing maintenance processes.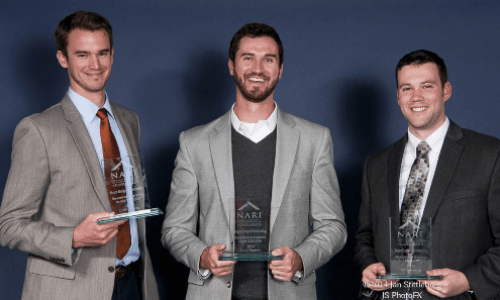 Boyce Design & Contracting's professionals have the ability to custom-build any swimming pool to match any surrounding architecture or landscape. Because of the extensive involvement and control you have over your project; you will always receive a level of quality and personalization difficult to find anywhere else. Voted by NARI Atlanta as the city's premier contractor for residential exterior projects with values above $100,000, we possess the skills and experience necessary to develop an extraordinary project for you every time.
Our design and project management team can expertly craft any of the below styles and integrate it seamlessly into your new backyard retreat. Regardless of the type you choose, the impact one of our gorgeous swimming pools makes on your family, friends, and other guests lasts a lifetime.
Designs & Features To Consider
Your pool should be an extension of your home with a seamless transition from house to pool incorporating your distinct style, taste and personality. Stylistically, we can help you construct any type of pool you want, and the options today are limitless. If you don't know where to start, pools typically come in one of the following styles:
Classic/Traditional

Modern
Let's Start Building Your Dream Project Today